Reconnect With Nature Retreat
JUNE 24th - 30th, 6 NIGHTS, 12 YOGA CLASSES, 2 WORKSHOPS, AMAZING FOOD.
PRICES STARTING AT £850 (Flights not included. Transfers to/from airport are included)
Welcome
Come join Sarah for a week in nature at her Reconnect With Nature Retreat in the foothills of the Pyreneese. You will enjoy a beautifully converted old water Mill that nestles beside 600 metres of the river Arize. The property occupies 11 acres of private grounds, which includes a mixture of lawns, flower and herb beds, orchards and woodland, including a wooded island walk that leads up to a cascade with a beach and the opportunity for 100 metres of wild swimming above the weir.
It is the ideal location for a yoga retreat, with its secluded and natural surroundings, and yet there is lots to do. This beautiful home boasts a 13meter heated pool, a wood fired Hot Tub and Sauna, a plunge pool, bikes to explore the nearby village and scenery, hiking in the Pyreneese and of course - Yoga. We have a purpose built yoga decking nearby the river, so we can practice to the sound of the birds and rippling water.
You will have the opportunity to deepen your practice, relax and chill, be part of an amazing community of like minded people, eat the most delicious food, and all of this in paradise! Don't be nervous or shy about coming alone – most people on retreats are solo travellers, who make friends, and end up coming away with such a big sense of community!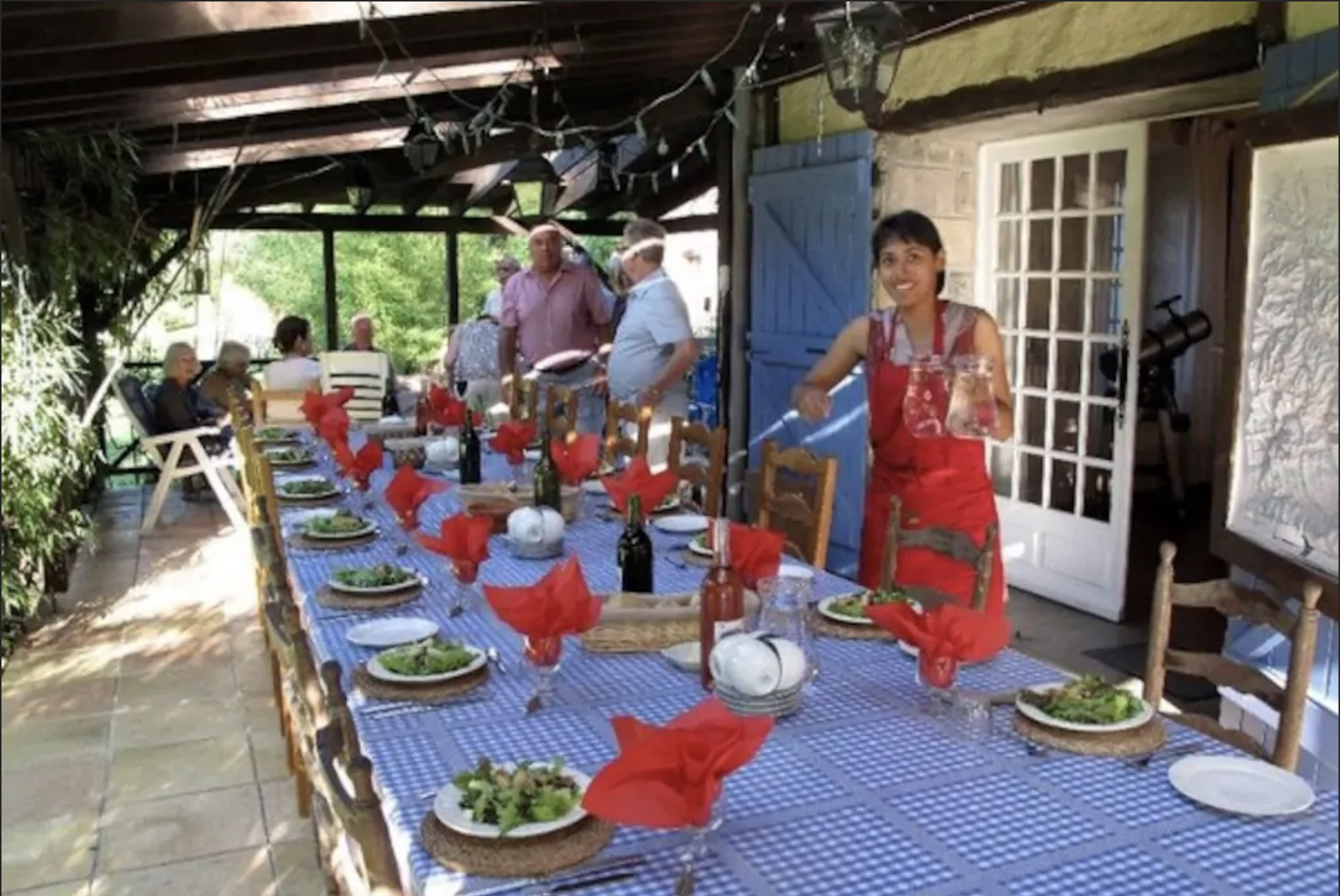 Bedrooms
All the bedrooms are spacious and en-suite. There are five twin rooms and five double rooms. Sarah will only bring a maximum of 16 guests on the retreat so everyone gets 1:1 attention during the yoga practices. The double rooms can be shared by couples, or friends that are willing to share a bed, or if can be single occupancy if a private room sounds like more your thing. Each room is an en-suite and each room is unique. You don't need to have someone coming with you already to share a twin room, I am happy to pair you up with someone of the same sex if you want to make a new friend during the trip!
Yoga
With Sarah, you will be exploring the full spectrum of your yoga practice during the retreat. Nothing is compulsory. Like any yoga class, you take part in the bits that you want, and leave the bits that you don't!
You will start your mornings with an 80 meter walk to the riverside, where there is a purpose built yoga space, amidst nature. Sarah will lead a 20 minutes of meditation and breath work, followed by Dynamic Vinyasa (90mins) every day, to energise and wake up the body. It will include the Rocket series which is Sarah's passion, but also Mandala, and Sarah's creative sequences. Restorative and Yin practices will also play their part to help you wind down at the end of each beautiful day, creating harmony and balance within your body.
There will be 2 yoga workshops. These will give you greater depth and knowledge into specific elements of the yoga practice. You will have plenty of opportunity to play with arm balances, inversions and all those poses you are working on. You will come away feeling stronger and more confident in your practice.
Food
The incredible Sophie Gordon is joining Sarah again. Soph is renowned for creating beautiful and delicious vegan and vegetarian meals. All meals will be included and provided apart from one meal which will not be included. That evening we would like to all go out for some local (inexpensive) food.
Soph will also be delivering an interactive cooking workshop during the retreat to give you the opportunity to learn some practical cooking skills and make the dishes that you have been enjoying whilst you're here. It will allow you to take home a little taste of France, to prepare any time you want to whisk yourself back to this incredible time away.
Check out Soph's delicious food here.
Rates
These rates are all inclusive for transfers, accommodation, food (except for one meal), and yoga. Flights to and from Toulouse are not included. Please see recommended flights below, as if you do not take one of these flights, you will have to organise your own transfer. The venue is equidistant between Toulouse and Carcassonne. There is always an option of renting a car if you would like to make your own way to and from the airport.
Early Bird Pricing (Early Bird ends 12th April)
Twin Room - £950 per person sharing
Double Room - £1250 per single occupancy, or £850 per person sharing
Full Price
Twin Room - £1000 per person sharing
Double Room - £1300 per single occupancy, or £900 per person sharing
Recommended flights (London Based):
24th - London to Toulouse - Ryanair 07.15 Stanstead, British Airways 07.35 Heathrow, Easyjet 08.25 Gatwick
30th - Any flight with a departure time after 17.00 from Toulouse Airport.